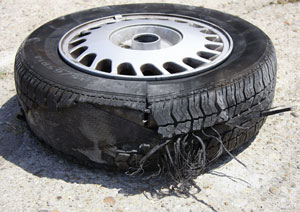 06 Jun

Retread Tyres

WHAT ARE RETREAD OR REMOULD TYRES?

A retread tyre is a used tyre that has been remanufactured to extend its life. The old worn tread is removed and a new tread is attached through a specialised process involving hot and cold curing.

Retreads are widely used and accepted in the trucking industry because of the high costs of replacements. Within the car industry, they slowly fell out of favour as questions began to be raised about their safety with a number of high profile accidents being caused and blamed upon faulty remoulded tyres. The growing range of affordable new budget tyres has almosts finished this area of the market completely in the last decade. Gone are the days of seeing just the faulty unattached treads of remoulded tyres laying by the side of the motorway.

WHY DO A1 TYRES AVOID USING RETREADS?

While retreads may be suitable for the transport industry, there are still grey areas about their safety and the levels of conformity they actually adhere to within the tyre industry. Simply put, these are not new tyres and like anything used, they have a far greater potential to fail. With so many affordable tyres on the market for each size and the introduction of the new european safety and conformity laws, there are very few reasons to consider resorting to using retread tyres.

For the sake of what can be £2-3, there is potential to put your life and your families at greater risk and because of this, we at A1 Tyres do not stock, sell or fit retreads and would advise that you stay well clear. We are confident that our pricing of new tyres should keep you away from this option in the future.