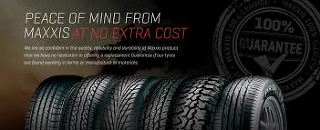 10 Mar

Maxxis Tyres- Centre of Excellence

Like most great companies, Maxxis started small. Founded in 1967, Maxxis International started as a manufacturer of bicycle tyres in Taiwan. Growing at a steady rate, Maxxis eventually became the world's largest manufacturer of bicycle tyres and still is to this day.

In the last 60 years, Maxxis has expanded into new markets offering products for motorcycle, cars, 4x4s, light trucks, trucks and buses, ATVs, lawn and garden products, race karts, industrial vehicles and trailers.

But no matter how large they become, the people at Maxxis will always remember that creating and retaining lifelong customers is there primary purpose.

As testament to this, Maxxis have just opened a brand new £50m state of the art tyre testing facility in China. They are so confident in their own testing and the product that they supply, that all Maxxis tyres include a full no quibble lifetime guarantee against faults or defects.

This is not all though. Maxxis also provide a damage warranty free of charge. In incidents of irreparable damage to a tyre, the remaining tread depth is measured and all remaining unused tread is deducted off the cost of a replacement tyre.

Visit us today at A1 Tyres Dover or have our van come to you at your convenience to fit you new Maxxis tyres.